Search Engine Optimization (SEO) Services
Search engine optimization (SEO) is the method of optimizing your online content or web page in the search engine results. Thereby ensuring more visitors to your site and potentially more business. Our SEO services company is an ever evolving domain, with highly dynamic techniques of correlating data trends. Keeping in view the changes in user's behavior in the digital world. The algorithms of the search engines like Google, Yahoo!, Bingo change in the blink of an eye.
SEO in digital marketing space
Tweaking your content with our seo services company and getting better result. It is a smart digital marketing strategy. A title and description that contain keywords are must for every page of the website.On each web page content is the king. While SEO-friendly content providing the required edge to the business over its competitors. Now a days an average person spending around 15 seconds on a web page before moving on. With an engaging content, you can ultimately convert the visitors to a client.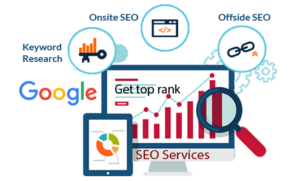 SEO is proven to create more traffic opportunity than a PPC. Search engine results pages (SERPs). Combines both advertising and organic or unpaid result formats. SEO can influence some of Google's organic SERP features, for example, featured snippets (answer inside a box) and related questions ("People Also Ask" boxes).
SEO strategies
As the ethical SEO technique, White hat SEO is about creating easily accessible quality content for users benefiting the online "spider" algorithms, instead of trying to deceive the algorithm. Black hat SEO, on the other hand uses methods like invisible content or stuffed keywords. Cloaking or redirecting to another site, irrelevant links of sites or contents. Another approach is grey hat SEO, in most cases entirely focused on improving search engine rankings, though may not assuring quality content. 
Certain strategies for SEO are listed below:
Improving the user experience across the site.

Relevant content and links.

Exploring relevant keywords through tools like

Ahrefs, SEMrush etc and using the wisely in the content.
Creation of back-links from different sources like blogs, bio sections, product pages, discussion forums, directories, News sites etc 

Technical optimization, like moving towards Https version 
Local listing and local landing page for local users for optimizing sales leads
On-page SEO vs Off-page SEO
While On-page SEO looking like what the site/page is about. Off-page SEO concerns about how authenticating and popular the site is. Some of the key factors of on-page SEO consist of title tags, keyword-infused headings and Meta descriptions. And also having URL structure, Alt text for images, loading speed for the page and originality of content, internal linking etc… The prime off-page SEO factor is the quality of back-linked content including image, audio, and video sharing sites. Few popular options include videos in Vimeo and Daily-motion, audios in Sound-cloud and Podbean, Images in Flickr, Instagram, and Pinterest.
How
S
ocial media plays a pivotal role
Social media has evolving from communication/socializing platform to a highly profitable marketing channel. Users are starting searches on social media and are redirected to the business's site. Sharing personalized, intriguing and updated content attracts more consumers to the social media page/profile and eventually to the website.
Used wisely and with upgraded techniques, SEO accomplishes the ultimate goal of business opportunities optimization.